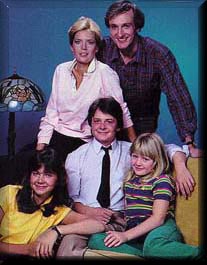 001. A big promotion at work leaves Steven little time for his family or for
the celebratory dinner Elyse planned in his honor. Gus: John Hancock.
Rhodes: George Coe.
002. A blind date to a concert leads to a romance between Alex and a dynamic
-- and middle-aged -- French woman. Lorraine: Carolyn Seymour.
003. A close friend of the family makes a pass at Mallory.
004. A high-school reunion reunites Elyse with the guy voted least likely to
succeed (Robert Klein) -- who's now a millionaire -- and together they're
the hit of the party.
005. A snobbish girl (Lisa Lucas) promises to get Mallory into her sorority
if Mallory will introduce her to Alex.
006. A visit from Steven's father (John Randolph) prompts a predictable
confrontation between the two.
007. PART 1: A visit from Uncle Rob (Norman Parker) and the Keaton cousins
reveals problems between Rob and his daughter (Tammy Lauren), who won't
forgive him for having had an affair. Jonathan: Blake Soper.
008. PART 2: Strained relations between Uncle Rob (Norman Parker) and his
daughter (Tammy Lauren) reach the breaking point after she spends the
night with a stranger.
009. PART 1: After his father's death, Steven returns to his home town to
help his mother move out of the house -- a place that easily inspires
memories.
010. PART 2: Steven and his brother (Norman Parker) lock horns over the sale
of their mother's house.
011. After making a commitment to work with Steven, Alex begins working at
the TV station, then considers leaving when a bank job opens up.
012. After their home is burglarized, Steven and Elyse consider buying a gun.
013. After watching Mallory suffer through a string of disastrous dates,
Alex is convinced that he -- and his computer -- can find her the
perfect boy friend.
014. Alex agrees to help Mallory maintain her grades, which have begun to
slip since she got an after-school job at a boutique.
015. Alex and James (Jeffrey Joseph) start a tutoring service and fall for
the same client (Nancy Everhard). Axelrod: David Wohl. William:
Wyatt Knight.
016. Alex and Mallory become rivals when Steven's station offers a scholarship
to employees' kids. Wertz: Ben Piazza.
017. Alex considers quitting his job at a neighborhood grocery store to
accept a stockboy position at a supermarket.
018. Alex falls asleep writing an American-history paper -- and wakes up in
Philadelphia on July 3, 1776.
019. Alex gains a new appreciation for art when he discovers the profit
margin in mass-marketing Nick's sculptures, but he ends up pushing Nick
to his artistic limits in the process.
020. Alex gets more involved in feminist causes than he anticipated when he
feigns support of the ERA just to impress a girl (Tracy Nelson).
021. Alex gets Skippy into a popular frat, unaware that the brothers want to
make him a "big stooge" on campus. Brian: Tom Breznahan.
022. Alex gets wrapped up in the joy of fatherhood when he meets an unwed
mother at a Lamaze class held at the Keatons. Donna: Isabelle Walker.
023. Alex has competition in Lauren's ex-boy friend, a Wall Street banker
with a sports car, and hopes of rekindling things with Lauren. Eric:
Campbell Scott.
024. Alex has trouble believing that Doug (Timothy Busfield) would rather
spend his time with his new girl friend than with him.
025. Alex hires a housekeeper (Geena Davis) with no experience -- and whose
chief qualification is meeting his special criteria.
026. Alex is a Big Brother to a Vietnamese boy and tries to mold the youngster
in his own image. Ming: Eugene Akutagawa.
027. Alex is down in the dumps after Ellen goes to Paris on a dance
scholarship, but soon he's looking for a replacement. Sharon: Haviland
Morris. Flaum: Michael Zorek. Neil: John Putch. Carmine: Robert Costanzo.
028. Alex is in double trouble: he's asked two girls to the senior prom and
doesn't have the nerve to cancel either of the dates. Daphne Zuniga.
029. Alex is obsessed with raising his geometry grade and Alex's 13-year-old
whiz-kid math tutor (River Phoenix) is obsessed with Jennifer.
030. Alex is stunned when he receives a low mark in a political-science
course. Bronski: Michael McGuire.
031. Alex is sure to insult his female boss (Melinda Culea) at the bank with
his first report -- which includes recipes and carpet swatches.
Heaney: John Petlock.
032. Alex is taken by surprise when he loses out for class valedictorian to
his girl friend Rachel (Daphne Zuniga). Dr. Schulte: Terry Wills.
033. Alex is "the kind of guy who likes to be put up on a pedestal," but
Ellen's not the kind of girl who'll put him there. David: John Scott
Clough. INCLUDES: Alex's Stock Market Dance.
034. Alex is thinking of marriage after a college woman invites him to spend
an evening in her apartment.
035. Alex learns about the blues from a legendary guitarist (bluesman Brownie
McGhee), who agrees to be interviewed on Alex's college radio show but
refuses to perform for fans on campus. Webster: Richard Brestoff.
036. Alex may have the killer instinct it takes to impress the top broker at
an investment firm, but that instinct is put to the test after he's
hired and his friend who got him the interview gets the boot. Paul:
Billy Morrissette. Foster: Christine Jansen.
037. Alex refuses to admit that Elyse is a far better student than he is in
an auto-mechanics class.
038. PART 1: Alex selects a steady girl friend from the freshman directory --
but it's her roommate, Ellen, who lights Alex's fire. Tricia: Suzanne
Snyder.
039. PART 2: Alex is in love -- problem is, she's all set to marry someone
else. Tricia: Suzanne Snyder.
040. Alex soon regrets encouraging Lauren to quit work on her senior thesis:
she turns into a Stepford girl friend, watching soap operas, clipping
recipes ad devoting herself to Alex's every need. Judi: Amy Benedict.
041. Alex takes Andrew out of preschool when he learns that the classroom
teaches noncompetitive values.
042. Alex tries to tame the independent young woman he's wildly attracted to.
Carrie: Talia Balsam. Julia: Susan Bay.
043. Alex wants to attend a fraternity rush party with the perfect date, which
he thinks he's arranged -- until she cancels. Geena Davis.
044. Alex worries about Mallory, who's off for a late-night drive with Alex's
friend Eric (Lee Montgomery).
045. Alex's knack for picking a winner prompts him to use his parents' blue-
chip stock as collateral on some risky investments. Matthews: Philip
Charles MacKenzie.
046. Alex's professor (Mason Adams) feels threatened by a new breed of
teachers and wants to submit a fraudulent paper to keep his job.
Marshall: Lisa Sloan.
047. Alex's surprise support bolsters Mallory's campaign for student-body
president with a fresh, timely platform: "confidence, diet soda and new
drapes." Amy: Sonia Curtis.
048. PART 1: An expectant Elyse can't wait to perform in the pledge-week
entertainment at Steven's station.
049. PART 2: Steven, the plumber and Skippy brave a blizzard to reach the
hospital, but Elyse is still back at the station in the final stages of
labor.
050. Andrew is predictably threatened by Alex's involvement with Lauren, but
it takes Lauren to explain the youngster's jealousy to Alex.
051. Andrew returns from preschool refusing to speak, and the Keatons learn
that his silence is a show of empathy for a hearing-impaired classmate
being razzed by other students. Josh: Darrel Utley. Miss Metcalf: Terri
Hanauer. Mrs. Richards: Susan Kohler. Eugene: Malachi Pearson. Louise:
Michelle Collins.
052. As a working wife and mother with so much to do and so little time,
Elyse fears her only solution may be to become a full-time housewife.
Jerry: Jay Thomas. Norback: Sandy Ward. Doris: Suzie Plakson.
053. As the new advice columnist for a local paper, "Dear Mallory" urges her
readers to contact her at home, where she gets in over her head trying to
solve every problem under the sun.
054. At Jennifer's request, a klutzy classmate (Skippy's sister) joins the
girls' baseball team, unaware she's needed only to prevent a forfeit.
Arlene: Tanya Fenmore.
055. At Mallory's urging, Nick turns to his estranged father after the bank
turns down Nick's request for a loan to open a children's art school.
Joe: Dan Hedaya.
056. Career Day at Grant College inspires Skippy to join the Army and see the
world, but the recruiting officer seems more interested in the
qualifications of Alex. Sgt. Davis: J.J. Jones. Rose: Lois de Banzie.
Harry: Raleigh Bond.
057. Cramming for finals, Alex resorts to amphetamines, which put him in a
frenzy that he claims is his "natural boyish exuberance."
058. Dickens' "A Christmas Carol" inspires this episode featuring Alex as
the Keaton Scrooge. Young Alex: Chris Hebert.
059. PART 1: Eager to be popular, Jennifer decides to have a party -- and
invites only those from the "in" crowd at school. Chrissy: Amy Lynne.
060. PART 2: Jennifer's new-found popularity has the Keaton household
worried: she's cutting classes, speaking strangely and partying
constantly.
061. Elyse has difficulty dealing with her mother's new life style -- which
includes divorcing Elyse's father.
062. Elyse hopes to revive the folk-singing career she began some 20 years
earlier.
063. Elyse is obsessed with finding the perfect woman for a co-worker, despite
Steven's suggestion not to meddle. Terry: Tony Carreiro. Liz: Terry
Farrell.
064. Elyse gets caught up in the thrill of getting rich quick and succumbs to
the gambling tables in Atlantic City.
065. Elyse takes action when the wrecker's ball threatens to demolish her
first design project, while Mallory takes up acupressure massage.
Willis: Gary Grubbs. McPhree: Vic Polizos.
066. Elyse wants to fire the friend she recently hired, a move that could be
the final blow for the woman, whose marriage just fell apart.
067. Elyse's beloved sister pays a visit with her obnoxious children and
boisterous husband (Stuart Pankin). Marv Jr.: Jeffrey B. Cohen. Michele:
Karen Landry.
068. PART 1: Elyse's brother (Tom Hanks) drops by unexpectedly, acting like
someone's out to get him. Carlyle: Richard Venture.
069. PART 2: Steven and Elyse lie about Uncle Ned's whereabouts to FBI agents,
who are trailing him in connection with an embezzlement scheme. Uncle
Ned: Tom Hanks. Carlyle: Richard Venture.
070. Elyse's visiting Aunt Rosemary (Barbara Barrie) may be an exuberant
storyteller but her knack for keeping the family history alive seems to
be dissolving in a loss of memory. Dr. Williamson: Matthew Faison.
071. Elyse's young colleague (Peter Scolari) admits he's fallen in love with
her -- but he's wracked with guilt about his feelings.
072. Fearing she may not survive a tonsillectomy, Jennifer records in her
diary her memories and feelings for her family.
073. Forced to baby-sit, Alex drags Jennifer to a poker game -- and loses her.
Jeff: John Dukakis.
074. It's graduation time at Harding High, but Mallory may not be graduating:
she's flunking history.
075. It's parents' weekend at Leland College and Ellen won't invite her
father, so Alex extends an invitation behind Ellen's back. Franklin Reed:
Ronny Cox.
076. PART 1: Jennifer brings home alarming news that her school has banned the
subject of her book report: "Huckleberry Finn." Flaherty: Christian
Clemenson. Hewitt: Bibi Besch. Jill: Rachel Jacobs.
077. PART 2: Suspended from school for reading a banned book, Jennifer decides
to buck the administration and, after a hearing before the school board,
becomes the class symbol for the fight against censorship. Flaherty:
Christian Clemenson. Susan: Julia Louis-Dreyfus. Hewitt: Bibi Besch.
078. Jennifer gets into a fight defending her boy friend; Alex is dealt a blow
when Mallory outscores him on an IQ test. Adam: Noah Hathaway.
079. Jennifer gets more than she bargained for when she asks for Alex's help
on a social-studies project. Mrs. Pedroza: Belita Moreno.
080. Jennifer wonders why she's being ignored by her friend Scott (Matthew
Barry), who would rather take Mallory to dinner than go to a ball game
with Jennifer.
081. Jennifer's band is a hit during an audition for a Leland dance, but its
popularity plunges when Alex becomes manager. Brooke: Yael Nucci.
082. Jennifer's drive for good grades takes a back seat to her drive for
popularity after she begins dating an athlete (Wil Wheaton).
083. Jennifer's new suitor is a nerd bearing gifts, but he's her only ticket
to the sophomore dance. Simon: Jason Naylor. Roger: Tony Crane. Nancy:
Lilly Moon. Brad: Brad Kesten.
084. Job pressures, demanding teen-agers and a crying newborn interrupt
Steven and Elyse's plans to spend time together.
085. Lacking the nerve to ask a girl out, Skippy has Alex do it for him --
but the girl falls for Alex instead.
086. Lauren uses the Keatons as her study group for a paper on the American
family, but she soon realizes her subjects are anything but typical as
flashbacks recall memorable moments in their lives.
087. Mallory announces that she's not going to college after Elyse arranges an
interview with an admissions counselor.
088. Mallory befriends a young girl she caught shoplifting after learning that
the girl lives at a home for abused children. Jessie: Martha Plimpton.
089. Mallory believes she may have gone too far in trying to ease the pain of
a former neighbor when the woman begins to confuse Mallory for the
daughter she recently lost. Evelyn: Constance McCashin.
090. Mallory comes to regret getting Nick a janitor's job at her sorority
house, where the sisters make him an honorary member and a candidate for
Snow Queen. Dana: Tracy Camilla Johns. Cindy: Laura Leigh Hughes. Karen:
Kim Gillingham. Larry : Robert Constanzo.
091. Mallory enters herself and Elyse in a mother-daughter modeling contest --
but it's Elyse who steals the show.
092. Mallory fears history may repeat itself when Jennifer dates the yonger
brother of a boy who once broke Mallory's heart. Josh: Byron Thames.
093. Mallory is crushed when her best friend and Elyse hit it off and leave
Mallory out in the cold. Allison: Robin Morse.
094. Mallory's girl friend (Cristen Kauffman) learns she's pregnant and turns
to Elyse for advice.
095. Mallory's jealous after an elegant art patron (Christina Belford) takes
an interest in Nick's junk sculpture -- and in Nick.
096. Mallory's partner (Julie Harris) on a sociology-class project is 66 years
old -- a fact that disturbs Mallory more than she admits.
097. Mallory's reunion with her college boy friend (John Dukakis) has her
worried that she may not be as interesting to him as she once was.
098. Nick may lose out when college alters Mallory's view on men --
particularly a sophisticated fellow in her poetry group. Colin: Jonathan
Emerson.
099. Nick needs a diploma to qualify for a job at the YMCA, but he may need a
miracle to pass -- Mallory has offered to help.
100. No one feels much like celebrating on Andrew's seventh birthday after
Nick's mangy mutt is hit by a car, forcing Nick to make an on-the-spot
decision. Dr. Austin: Tom Isbell. Woman: Carol Mansell. Clown: Ron
Jarvis. Human Pretzel: Colleen Linnehan.
101. On a weekend outing to Princeton, Mallory disrupts Alex's interview with
the dean, jeopardizing his chances for admission.
102. On his 18th birthday, Alex cancels dinner with his family to celebrate
instead at a cocktail lounge with his friends. Crispin Glover.
103. On Thanksgiving Day, Steven and Elyse join a group of antinuclear
demonstrators who could end up in jail after a clash with the police.
Priscilla Morrill, Dick Sargent.
104. One of Alex's teachers insults Elyse, who responds by socking him square
on the jaw.
105. Peer pressure forces Jennifer to shun her male friend. Justin: Jeremy
Schoenberg.
106. Pitted against a top Soviet chess player, Alex prepares to win at all
costs -- until he figures out his opponent's strategy. Ivan: Albert
Macklin. Eric: George Pentecost.
107. Prior commitments prevent Elyse from sharing a romantic dinner with
Steven to celebrate his award for a TV documentary.
108. Professor Alex belittles student Ellen and gives her a bad grade, so she
decides to get even. Professor Spanos: Macon McCalman. Albert: Mark
Moses.
109. Re-entering the job market after 12 years at home puts undue pressure
on Elyse in her roles as wife and mother.
110. Romantic ties are forecast for Alex when psychology major Lauren hires
him as a subject in her study of overachievers.
111. School-newspaper editor Alex uncovers a student-cheating scandal that
should be printed -- but Mallory is involved. Winkler: Philip Sterling.
112. PART 1: Sexist attitudes shared by Alex and Steven seem to be rubbing off
on Andrew, prompting recollections of past male-female disputes in the
Keaton household.
113. PART 2: In flashbacks, the family recalls past squabbles that were worked
out in the spirit of togetherness that prevails in the Keaton home.
114. Skippy becomes Mallory's welcome companion when the two get locked in the
basement while the Keatons are away.
115. Skippy becomes relaxed, charming and witty -- and completely smitten --
in a counseling session with Lauren, who uses a psychological profile to
match him with a date. Pippi: Karyn O'Bryan. Darlene: Maura Tierney.
116. Skippy succeeds in romancing Mallory's friend Amy (Sonia Curtis), but
the prospect of a night alone with her has him running scared.
117. Skippy's discovery that he was adopted sends him searching for his roots.
Elizabeth: Garn Stephens.
118. Skippy's unrequited love for Mallory gets him into a fight at the
homecoming dance, which jolts him out of his fantasy world.
119. Something's up in the Keaton household: it's Alex, who hasn't been able
to sleep for a week.
120. Steven and a college chum (Sanford Jensen) resume publication of their
'60s radical newspaper, the Scavenger. Cameron: Raymond Singer. Monica:
Janice Lynde.
121. Steven and Elyse are incensed when Alex goes to a restricted country
club as the guest of his girl friend. Kimberly: Cindy Fisher. Blanton:
John Petlock.
122. Steven and Elyse realize that the kids would rather be anywhere than
with a parent for a weekend.
123. Steven and Elyse try to mediate a bitter feud between a friend (James
Sutorius) and his ex-wife, who's moving to California with their son.
124. Steven feels that he and Jennifer have grown apart, so he tries to bridge
the gap by attending her girls' club tea. Chuck: Dion Rottman.
125. Steven flies into a rage when he learns about the "fling" Elyse once had
with an old friend who's visiting the Keatons.
126. Steven looks to his family to help him muster resistance to the
temptations of a seductive co-worker (Judith Light). Gus: John Hancock.
127. Steven racks his brain to figure out a way Mallory could be an asset at
his public-TV station, but her first journalistic endeavor results in
disaster. Gus: John Hancock.
128. Steven's college play, "A Draft Card for the Burning," is revived at a
community theater, but director Steven can't stand to see the male lead
in romantic scenes with the play's heroine -- Elyse. Jeff: Rod McCary.
Oscar: David Wohl. Police Chief: Raymond Singer.
129. PART 1: Steven's visiting brother (Norman Parker) announces that he's
left his wife and is dating a woman he met on the plane. Kathy: Wendel
Meldrum.
130. PART 2: Steven feels like he's lost a brother when he tries to help Rob
(Norman Parker) through a midlife crisis.
131. Thanks to Alex's coaching, there's a "new" Nick, who impresses Steven and
Elyse -- but doesn't do a thing for Mallory.
132. The college student Mallory's been dating wants their relationship to
take on a new dimension -- a sexual one. Rick: Tom Byrd.
133. PART 1: The death of a friend (Brian McNamara) in an auto accident leaves
Alex feeling guilty -- it could easily have been him. Brother Timothy:
Richard McGonagle.
134. PART 2: The episode concludes in a therapist's office, where Alex
struggles to understand his friend's death -- and the nature of reality,
guilt and insecurity. Greg: Brian McNamara.
135. The death of her favorite aunt leaves Mallory in need of consolation, but
her family's too caught up in a garage sale to notice. Aunt Trudy: Edith
Atwater.
136. The Keatons are at war over Mallory's new boy friend (Scott Valentine), a
Rambo-type character whose talents only Mallory appreciates.
137. PART 1: The Keatons decide to give Ellen a rundown of Alex's life before
she met him.
138. PART 2: Clips from past episodes are featured as the Keatons each chime
in with their favorite story about Alex's life. Tracy Pollan.
139. The Keatons get swept up in the family drama unfolding in the lives of
two senior citizens at a retirement center where Steven is producing a
documentary. Joseph: Douglas Seale. Eva: Marie Denn. David: Jeff Perry.
Sam: Joshua Shelley. Judge Cameron: Paul McIsaac. Jack: Robert Torti.
140. The Keatons interview Nick for an art contest and learn that he shares
some of their viewpoints.
141. PART 1: The Keatons' holiday in England, where Alex begins a summer
scholarship program at Oxford. Clive-Hopkins: John Moulder-Brown.
Weiss: Charles McKeown.
142. PART 2: The Keaton's holiday in England
143. PART 3: The Keaton's holiday in England
144. PART 4: The Keaton's holiday in England
145. The whole family's going gaga over the new baby -- except for Jennifer,
who's resorting to infantile behavior.
146. To earn college credit, Alex takes a job at a hotline counseling center,
where his first call comes from a suicidal student. James: Jeffrey Joseph.
147. Uncle Ned (Tom Hanks) pays a visit, displaying a bravado that Alex soon
learns is a cover-up for a serious drinking problem.
148. Visiting cousin June (Danielle Von Zerneck) hopes to share highlights
of her European trip with the Keatons, but the conversation turns to
dating experiences and other reminiscences.
149. When Alex can't find a qualified partner for a high-school quiz-off, he
takes on the Herculean task of training Mallory.
150. When Mallory and her French tutor (John Dukakis) are too shy to express
their feelings for each other, Alex tutors them both in the art of
romance.
151. PART 1: When Mallory announces her engagement to Nick, her family is taken
by surprise.
152. PART 2: When Steven and Elyse learn of Mallory's plan to elope with Nick,
they wonder where they went wrong. J.P.: John Ingle.
153. When Steven and the Keaton youngsters return from a camping trip, Elyse
is bursting with the news that she's pregnant.
154. When their ski trip is postponed by a snowstorm, the Keatons sit home
by the fire, where Steven and Elyse share memories of their children's
births.
155. PART 1: While at a banking convention, Alex has to share a room with his
boss (Melinda Culea) after his reservation disappears.
156. PART 2: Rebecca (Melinda Culea) gets drunk at a cocktail party and
insults the bank director. Okun: Reid Shelton.
157. While Steven and Elyse are away, Alex rents out a room in the house to
pay for the auto damage Mallory caused.
158. Working as a department-store Santa, Alex has an encounter with the
real Santa (Pete Schrum), who promises him that his good deeds won't go
unrewarded. Michelle: Ellen Hamilton Latzen. Beth: Lee Garlington. Ray:
Josh Clark. Eddie: Victor DiMattia.
159. When their relationship is strained, Alex and Lauren go to group therapy.
160. With only a map of ancient Greece, the children get lost trying to meet
their parents on a camping trip they should have gone on.
161. Steven tries to stop mallory and Nick from buying a used car together.
162. On their 20th wedding anniversary, Steven and Elyse get into a bitter
fight.
163. Mallory's clothes designs are stolen by a fashion designer at her work.
164. PART 1: Steven's black co-worker and family move into the neighborhood,
only to find they are not welcome. Gus: John Hancock.
165. PART 2: Steven's black co-worker and family are driven out of the
neighborhood by prejudiced neighbors. Gus: John Hancock.
166. PART 1: While Lauren is away, Alex becomes romanticly involved with a
music student.
167. PART 2: After his new romance, Alex breaks up with Lauren.
168. For a school project, Jennifer works with a nerd at Chicken Heaven.
Simon: Jason Naylor.
169. Nick gets underfoot when he stays at the Keaton's while his apartment is
being painted.
170. Jennifer goes overboard trying to protect the environment.
171. Alex thinks Andrew is spending too much time with Nick's little cousin
Rocco.
172. PART 1: Steven suffers a heart attack.
173. PART 2: Steven suffers a heart attack.
174. PART 3: Steven suffers a heart attack.
175. PART 1: When Andrew builds a time-capsule, the family reminisces through
flashbacks.
176. PART 2: When Andrew builds a time-capsule, the family reminisces through
flashbacks.
* Note: Many of the above episode descriptions were taken from TV Guide.
SYNDICATION
-----------
For the last couple years, the Fox network has been consistly replaying 2
Family Ties episodes every Saturday and Sunday afternoon at 4pm - 5pm PST.
The only drawback is that Fox seems to concentrate on the last season, so if
you watch it, you will find each last season episode repeated about 3 times
as often as every old season episode, which are by far the best. At this rate,
you would have to invest more than a year before you finally saw every episode.
Furthermore, I am certain that some Family Ties episodes are edited slightly.
As with most good things, no Family Ties episodes have ever been released on
video in any format.
main - blurbs - quotes - cast - steven - elise - alex - mallory - jennifer - andrew
---
Site designed by Shawn McNulty

Questions or comments email Shawn McNulty or Bridgett Wagener
@1997